With the onset of COVID-19 we were only able to teach the Alexander Technique online. Being able to use online video conferencing tools such as Zoom or Google Meet has been a godsend for us! Happily, traditional hands-on teaching is now allowed to resume in a modified, Covid Secure form but I continue to offer online lessons as well.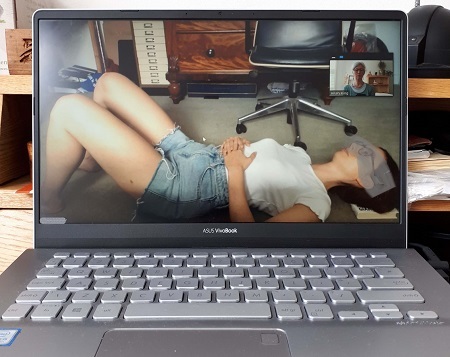 Six Free Lessons for NHS staff
I am offering NHS staff six free online lessons. Just contact me using an NHS email address. This offer has been extended until 11th January 2021.
Online learning in your own home
Online Alexander classes can have some advantages.
Clients can have a lesson in their own homes or office, saving time, money and energy on using potentially risky public transport. Distance learning also means I can observe clients whilst using their own equipment. This is likely to be more natural and reveal more of their habits. Plus, clients can use the screen like a mirror and observe their own movements.
Another interesting benefit of online work is that pupils cannot rely on the teacher's hands to give them a sense of what is going on in their bodies and with their reactions.  I can still observe clients and guide them verbally of course and help them to use their own thinking and observations, in order to bring about changes in themselves.  This is something pupils aim to do in all types of lessons but with online work, this process is more obvious.
F M Alexander Used Mirrors
Of course Alexander developed the technique without anyone helping him. He used mirrors to observe himself and discovered habits that led to him losing his voice. He worked out how to let go of his habits, so he could act differently and look after his voice. We follow in his footsteps!
Contact Me
If you would like more information about my online classes and live lessons, you can contact me here
See what this GP said about starting Online AT Classes with me
"I recently started Alexander Technique lessons online and have found them very helpful.  As a beginner I wondered if it may be difficult to learn online but I have been pleased with my progress.  Hilary is able to give clear instructions and demonstrate where needed.  I feel more aware of my body position and able to free up tension.  This has been particularly useful at work, where I sit for extended periods at a screen."  Rowan – GP – June 2020