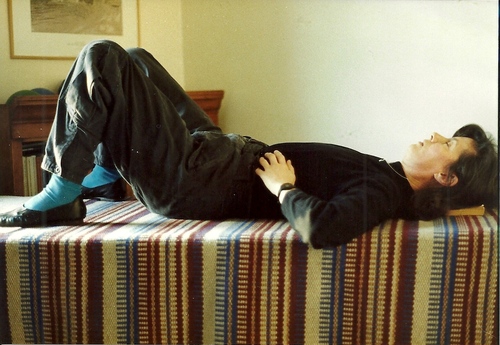 Based in North London, Hilary King is an experienced Alexander Technique teacher, having qualified in 1987.
Whilst I offer 'pure' Alexander lessons and Workshops, my professional experience and background in Ballet, Psychology and Stress Management inform my work. I love teaching the AT and helping people feel more comfortable in their bodies!
Qualifications:  BA (Hons)  PGDip Psychol.  Dip Couns.  MSTAT
Ballet was my first career. I trained at the Royal Ballet School and performed for several years, mainly with Sadler's Wells Opera Ballet ( ENO). My qualifications are: ACSET 2 Certificate for Teaching Adults; BA (Hons) Psychology; PG Dip Psychology and Health; Post Grad Diploma in Psychosynthesis Counselling and Therapy. I have also qualified as a STAT recognised Alexander Technique teacher.
Whilst taking my degree as a mature student, I started AT lessons and really enjoyed them. They helped me manage my high stress levels and improved my concentration, so I started getting better marks! The AT also sorted out a back injury I'd had since my teens studying ballet.
Experiencing so many benefits of the Alexander Technique, I decided to train at the North London Teacher Training Course, run by Misha Magidov.  This 3 year course was regulated by the Society of Teachers of the Alexander Technique, STAT. Later, I was fortunate to have lessons with some of the teachers who had trained with F M Alexander himself:  Marjorie Barlow, Margaret Goldie, Patrick Macdonald, Tony Spawforth and Peggy Williams.
Member of STAT, the Society of Teachers of the Alexander Technique

Professional indemnity insurance and 

Enhanced DBS certificate

Bound by STAT's Constitution and their Code of Professional Conduct

Registered with CNHC, the Complementary and Natural Health Council

Professional member of BackCare

Registered practitioner with BAPAM, the British Association for Performing Arts Medicine
Experience
My teaching experience is diverse.  I lectured in Psychology at Middlesex University and have run Alexander Technique and Stress Management courses in the UK and abroad. These have been in my own practise, in Adult Education Colleges and for the corporate sector. My main focus now is the Alexander Technique.
As a member of STAT, I hold professional indemnity insurance, an Enhanced DBS Certificate and am bound by STAT's Constitution and Code of Prof. Conduct. Also, I am Registered with the Complementary and Natural Health Council, CNHC
I have taught at the Royal College of Music plus the Ernest Read Music Association and LSO Summer Schools.
In 2008 I was chosen to be one of the Alexander teachers in the major ATEAM research trial designed by Southampton University and funded by the MRC. This compared the effectiveness of the Alexander Technique, Massage and a GP Exercise Programme, as treatments for patients with recurrent and chronic back pain. Pleasingly, the Alexander group showed the greatest significant long term improvements in their levels of back pain.  BMJ (Aug 2008).
Since 2009, I've been a visiting teacher at the London Centre for Alexander Teaching and Training, LCATT. This is a STAT recognised three year Alexander teacher training course. I am pleased to say that at least eight of my private AT pupils have gone on to qualify as Alexander teachers at LCATT and other courses.

Teaching Practice
After teaching in the Stoke Newington N16 area for 33 years, I am now based in Harringay N4. 
Individual Alexander Technique lessons both online and in person

Alexander Technique Short Courses and Workshops

Teacher Training
Short courses and workshops were halted during the period of Covid restrictions and but these have now restarted.
Pupils
Alexander clients come from all walks of life and mine are aged from eight to eighty plus:
Actors; Artists; Builders; Dancers; Doctors; Gardeners; IT and Office Workers; Musicians; Runners; Pensioners; Pregnant Mothers; Therapists and Yoga Teachers….
Environmental and Ethical Policy
As well as following the STAT and CNHC codes of conduct, I have an Enhanced DBS Certificate.  I also aim to be environmentally aware and use a Green Energy supplier.
The main charities that my work supports are UNICEF's Children's Emergency Fund, the RSPB and the Woodland Trust.  I have also been actively involved with local community groups for many years.