What is your reaction when you think of having to take a Covid-19 Test?
I was surprised to notice my reactions when taking a Covid-19 Test today. I have taken dozens of Lateral Flow Tests, yet still have a low level of anxiety at the thought of taking a test!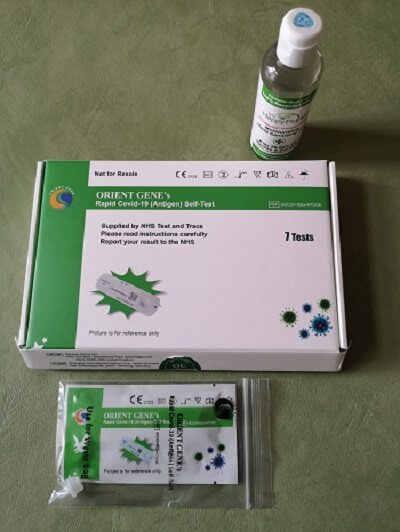 What is your reaction when you see a Covid -19 Test?
My anxiety reactions were more obvious recently, after I discovered I had been in contact with someone who'd tested positive. I had a sinking feeling deep in my belly and my back and neck muscles tightened up. Despite my being multiple vaccinated, still being very careful and wearing masks occasionally, I do still worry that I may catch Covid.
I thought I was relaxed about Lateral Flow Tests but noticed I tensed up merely at the thought of needing a test.  My reactions were stronger when I recently had to have a PCR test as well. Thankfully it was negative again.
I have taken regular tests for my teaching and I can get a bit blasé and fall into end gaining. When I do this, much of my awareness can vanish.  'Let's get this out of the way' sort of reaction kicks in. I often tighten my neck and jaw as I wipe the swab around my nostrils.  Do you notice doing that and if so, can you choose not to? At least with the newer test kits, we don't have to wipe our tonsils as well. I had to be very thoughtful doing that, to avoid tightening my neck as I looked at my throat in the mirror.
Waiting for the Test Results
If I go into automatic or anxious mode, I tend to curl down to peer at the test cassette. Firstly, in order to drop the liquid into it, then to read the results. That is not looking after my neck or back!  Why do I contract down, rather than using an easy folding movement?  Also, why do I rush to set the timer, to tell me when to check the results? Rushing does not help in any way. Have you noticed how you react  when you perform Covid-19 tests?
It is interesting to be reminded of how old unhelpful habits tend to return under stress
Preparing for My Next Test
So next time, I will pause briefly before getting out a Lateral Flow Test and will aim to avoid that unnecessary tension and end gaining. Being more aware should help make the testing process easier, more comfortable and less stressful. After all, I'm going to have to take many more in the future, so let's make it a more positive experience!