My next Introductory Workshop is on Saturday June 22nd.
This offers you a chance to find out about Alexander classes and how they can help you.  As this will be for a small group, it is essential to enrol in advance. Further info and Booking.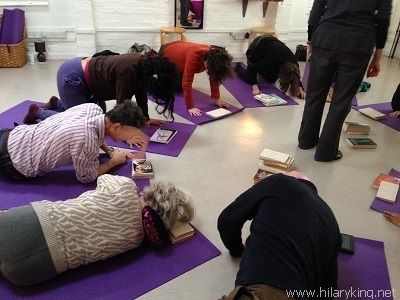 There will be some simple experiential activities, in which you can begin to develop awareness of the way you use your body. You will also learn the Active Rest Procedure, which you are encouraged use every day, to help you to become calmer, reduce tension and look after your back.
The photo shows participants at a previous workshop, as they are getting up from using this procedure. They are pausing midway, so they can be aware of how they are moving whilst gently maintaining a lengthened head neck and back. AT work is about how we move and act in the world, whatever we are doing, rather than just performing exercises at specific times.
This workshop could form the first part of a short course if enough people would like to attend.