It is always good to see some new Alexander Technique teachers qualifying from the London Centre of Alexander Teaching and Training, LCATT, teacher training course and to know that I have contributed to their experience of learning how to teach the AT.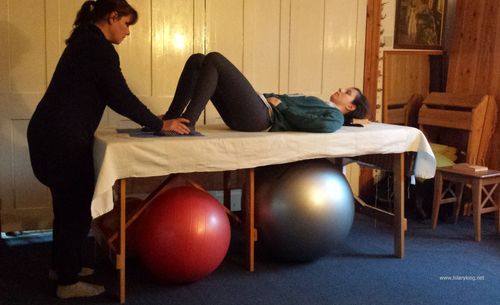 Sarah Oliver, teaching at the LCATT Clinic just a couple of days before she graduated.
It has also been pleasurable for me, at the times when I have supervised at the LCATT Clinic sessions, to see senior students teaching members of the public with great poise and confidence. These sessions give them a lot of experience and act as a bridge between being a student and setting up their own teaching practice. So far, five of my own
individual AT pupils
have gone on to train as teachers at LCATT and another pupil has trained elsewhere.
The
LCATT Clinic
is an excellent set-up. Reduced cost individual AT lessons are available to the public and are given by final year students, under the supervision of qualified Alexander teachers. Many of these pupils really appreciate this introduction to the Technique and often continue with the AT after their batch of Clinic lessons have finished.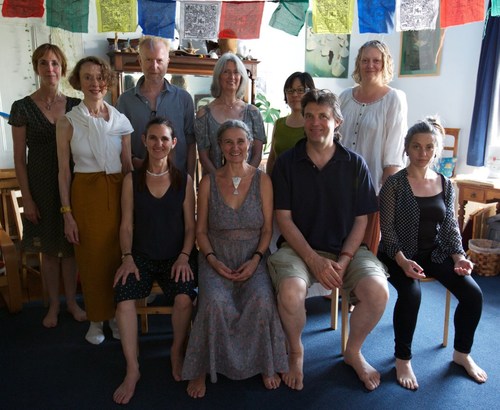 Some of the LCATT Teachers
For my part, I have spent some enjoyable and stimulating years teaching at LCATT since 2009 and this has greatly enriched my own teaching work. Refia Sacks is the Head of School, with Judith Kleinman and Roger Kidd assisting her (front row). The photo also shows some of the regular teachers at the school (I'm in the middle of the back row) but there is also a large number of visiting teachers and alumni that come to teach at the school, often from abroad, who are not shown here. All in all, LCATT has been a creative and enriching place to teach – and for the students to learn how to teach!