Introductory Workshop for Women & Teenage Girls 
Saturday 9 March ~ 2.0pm – 4.30pm
£25
Fundraising for Mary on the Green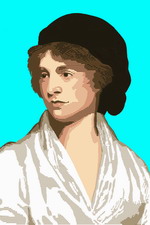 All fees will be donated to MOTG, towards erecting a monument to the 
pioneering feminist and human rights activist
Mary Wollstonecraft, here on Newington Green 
This Workshop is linked to International Women's Day, giving women and girls a chance to try out the Alexander Technique in a small friendly group. There will be some gentle experiential games, demonstrations, hands-on work ~ plus a nice cup of tea or coffee. 
SMALL GROUP:  PHONE TO SEE IF PLACES ARE STILL AVAILABLE
A Reduced rate 1:1 lesson will also be available to participants
Mary Wollstonecraft
But with awareness and AT lessons, we can free ourselves from this prison!