Are You Sitting Comfortably? No? 
Then your first step is to make friends with your Sitting Bones.
I had some fun setting up and taking these photos of Skelly, who usually hangs on a stand but I wanted him to sit, without an Xmas hat on this time.  Interestingly, the easiest way for me to set him up was balancing him right over his sitting bones, just the way I wanted him to be – which is the way our bodies are designed to sit. When Skelly was not put in an upright position, he just overbalanced. OK he's only a plastic skeleton without muscles but he gives us a good idea about our bony structure and the way our bodies are designed to work. ( Not many arms will bend backwards like his though! )
However you can see the chunky rockers of the sit bones at the base of the pelvis, which are planted firmly on the surface so they can take the weight of the skeleton above. You can create an imaginary line through the skeleton from where the ear would be (near the hinge of the jaw), which is aligned above the shoulder and top of the arm, which in turn is lined up with the sitting bones. In this way the large weight of the head is balanced centrally and is supported, because it gets transferred through the spine and skeleton, right down into the sit bones.
An average adult human head weighs about 4.5 kg – 5 kg (9.14oz – 11lbs). It is heavy and it needs proper support!
I thought I would also try getting Skelly to lean – he cannot slump and collapse as real people do because he is too rigid but I did eventually get him to balance briefly, as if leaning backwards. One of the interesting things about this image is that it not only shows the sitting bones but clearly shows the tiny bone of the Coccyx at the tail end of the spine – which is not designed to take any weight but often is forced to do so because of the way the pelvis tilts when someone slumps in a chair. When this happens, the Coccyx is put under too much pressure and can be damaged, along with some of the vertebrae and discs. Also, the skull is left unsupported and the neck muscles end up by overworking in order to maintain some sort of balance and the breathing will be restricted….. and people wonder why they get problems such as neck and lower back pain!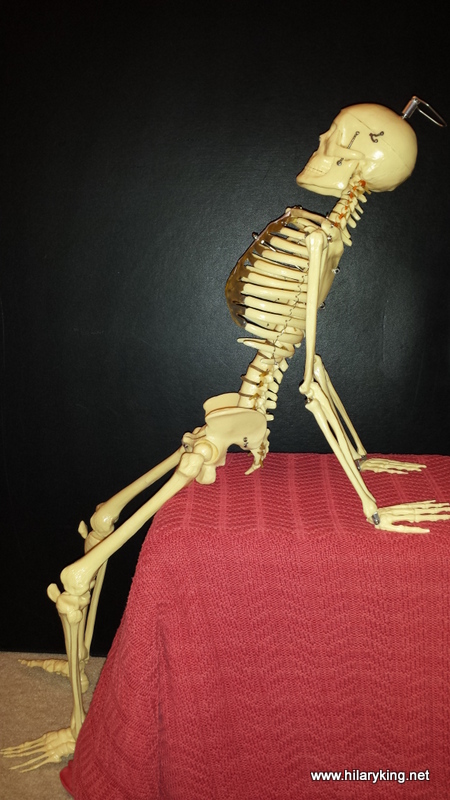 So balancing over our sitting bones as we sit, allows our bodies to function more efficiently. One of the great things about Alexander work is that people usually do end up by sitting more comfortably, as they let go of habitual actions and reactions and learn a new way of using their bodies. 
This pupil quoted below was very grateful for her AT lessons but her rather sad words illustrate how many people experience being taught how to sit as a child. However, they do at least have the option of learning the AT,  and rediscovering the joy of sitting comfortably as an adult:
"I wish I'd been told about my sitting bones as a child instead of being hit and told to 'sit up straight'. It's so much more comfortable!"
Next Step?
If you would like to find out more about how the Alexander Technique can help you to sit, walk and move around more comfortably,
individual lessons
are available on a regular basis.