F M Alexander was born on 20th January 1869 in Tasmania. 
Alexander was a premature baby and had a struggle to survive. He later attributed his frequent bouts of illness as a child and young man to his poor 
body-use
and once he taught himself to improve this, after several years of meticulous research and experimentation, his health also began to improve.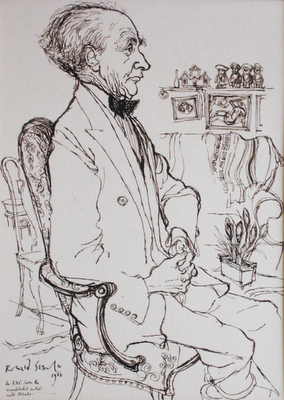 This print was made by FM Alexander's pupil Ronald Searle in 1953 and I am grateful that I can enjoy looking at this every day in my teaching room. Searle wrote under his signature:
"For 'FM' from the reconstituted artist, with thanks"
Alexander's family had originally lived, for many generations, in the ancient village of Ramsbury in Wiltshire. Whilst exploring some of my own family history I discovered that some of my mother's family also came from Ramsbury and one of them married a Mary Alexander in 1764, quite possibly part of F M's family, although I have not been able to verify this yet….. research still to be done here.
F M's paternal grandfather, Matthias Alexander was a hurdle maker and other family members were craftsmen. However they supported the impoverished agricultural labourers during the swing riots, in which they protested against the new threshing machines which were costing them their livelihoods. As a result of this support, Alexander's family was sent to Tasmania as convicts in 1831, something that F M never admitted to in public. If you are interested in discovering more about Alexander's background, his biography by Michael Bloch makes for interesting reading.
From these difficult beginnings, F M developed an interest in horses and in the theatre and in 1889 he moved to Melbourne, Australia and began to train for a career as a reciter. A few years later, after many bouts of illness which threatened his new career, F M began to develop his now famous Technique. This process is described in some detail his book 'The Use of the Self' and it is highly recommended reading for anyone interested in learning more about the Alexander Technique.
After Alexander's death in 1955, a group of teachers that Alexander had trained, formed the Society of Teachers of the Alexander Technique,
STAT
, in order to maintain and develop high standard of Alexander Technique Teacher Training and Professional practice.
Alexander has been listed as one of the top 200 most important Australians and in Tasmania there's this 
inscription acknowledging his importance:
"On a nearby property was born Frederick Matthias Alexander, 20th January 1869 – 10th October 1955 Founder of the Alexander Technique, Discoverer of Fundamental Facts about Functional Human Movement. One of 200 who made Australia great".