Hackney Magazine Article
I was honoured to be interviewed by Hackney Magazine, who published an article about how the Alexander Technique can help people during the COVID-19 pandemic (April 17 2020). I'm not alone in finding the AT a great self-help tool that we can utilize in many ways. It helps me keep calmer and more positive;  I use it to reduce discomfort and tension; it recharges my batteries and helps me manage stress.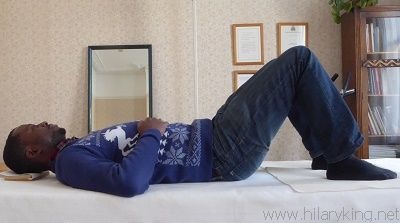 Active Rest Procedure in Semi-supine
The lying down procedure is the easiest way to start using the AT, even if you haven't had lessons. It's more effective than relaxation exercises – the AT reaches the parts other disciplines just don't reach! You can find more info about how to practice the Active Rest procedure here. The Alexander Technique has many more applications than I was able to mention in the article, that can aid us during this stressful period.
There is a positive gift to be found within lockdown: STOP  
Many of us have to stay home, to stop our usual activities and very often our work. So we have to stop living in our habitual way. Despite the hardship and trauma, this stopping can be a gift, as it allows us to experience living differently and see the world afresh. For instance, many people appreciate the fact that there's less pollution now, plus enjoy having more time with their children – and they are spending less money.
I've just moved house and immediately had to self-isolate with lockdown. Fortunately I'm used to living on my own and looking after myself. It's hard not seeing my family and new grandson and it's hard asking for help from people I don't know – but I am very grateful to my new neighbours in Umfreville Road. They are so welcoming, offering help and shopping for me. I've had to adapt to new ways of doing things – very abruptly – and the Alexander Technique has helped with this too.
Letting go of old habits allows us to adapt
These are challenging times and we all need to adapt. Psychologists know that change in itself is a major stress factor for most people.  Incorporating Alexander principles can help us gain some choice over how we respond to these changes and stresses. Having the AT, a tool we can use, also helps us avoid feeling powerless.
Choosing not to be ruled by old habits is a skill worth developing. Learning the Alexander Technique helps us to stop and let go of unhelpful habits, so we can choose new ways of acting and being. This allows us to be adaptable, which is invaluable, particularly when we're facing such huge changes in our way of life.
For those of us fortunate enough to avoid the virus, remember what Charles Darwin said:
"It is not the strongest of the species that survives, nor the most intelligent that survives. It is the one that is most adaptable to change".