My Intro Workshop for Women and Teenage Girls, c
elebrating International Women's Day 2015.
Although this particular workshop was just for women, it followed a similar pattern to the mixed workshops that I run at other times. Deena Newman, a graduate from the London Centre for Alexander Teaching and Training, kindly assisted me.
 We had an enjoyable morning introducing the AT to a group of women who were aged from a 17 year old, right through to a Senior, which was great. 
These intro workshops give people a chance to try out the Alexander Technique and to discover how we can begin to reduce stress and discomfort, whilst becoming more poised and increasing our sense of wellbeing. Some aspects of the Technique were explored through a mixture of experiential games, discussion and hands-on work whilst sitting, standing, walking and bending over to pick things up. 
One of the procedures that was learnt in the workshop was the Constructive Rest procedure, which is performed in a semi-supine position, as in the photo which shows some of the workshop participants lying down. (Many thanks to the women for allowing me to use this photo). This is a great technique to use in order to develop self-awareness and learn about ourselves, to help us calm down, to free up and to look after our backs. It is also something that people can start using to help themselves, immediately.
When people start having 1:1 AT lessons, this procedure usually takes place whilst lying on a table, rather than the floor, whilst the teacher uses her / his hands to give feedback and to indicate to the pupil how to free up and make the best use of the process. Pupils are asked to practice this every day in order to develop the skills that make this a very powerful tool to use in our everyday lives.
There is more info about using this lying down procedure here.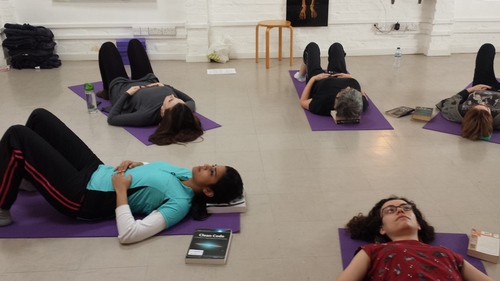 One participant contacted me after the workshop and told me that she was in the middle of moving house and that 'I had to move a vanload of stuff after the group session – (the workshop) was ideal preparation'.  It's great when someone can have an immediate realisation like this, as to how useful the AT can be, for instance when picking up and carrying boxes in a way that can protect our backs! 
This IWD workshop was held in The Green House N16, which is an exciting new venue on Green Lanes and it is a co-working initiative.
My next Intro Workshop is for both Men and Women 25th April 2015