'I'm Going to the Dentist'
For many people, even the thought of going to the dentist tends to bring about a reaction of tensing up in defensive anticipation and their anxiety can mount still further when they actually see the dentist and his tools. However, we can learn the Alexander Technique and use it to help reduce our tension levels and anxiety whilst the dentist is working on our teeth, so we are much more comfortable throughout dental procedures. Also, if we have a relaxed jaw and are calm, this will make things easier for the dentist!   
This image expresses some of the feelings associated with sitting in the dentist's chair. It also shows the dentist looking rather unhappy about his own experience, which, sadly, is often the case. Research has shown that many dentists suffer from back pain, heart problems and depression and, apparently, are twice as likely to commit suicide as the rest of the population. It would be great if more dentists learned the Alexander Technique so that they had a tool they could help themselves with whilst they work, could look after their backs as they bend over their often agitated patients and could help themselves let go of tension at the end of what can be a long and stressful day's work. 
Can we avoid reacting with tension?
I saw my dentist recently and was very aware of how I constantly needed to remind myself not to react with tension to every drilling noise made! On a practical note, I first had to ask the dentist to adjust the height of the neck rest to suit my body as I lay back in the chair. Then it was up to me to keep calmly maintaining the length in my spine and to avoid creating tension in my jaw, neck and back muscles so that I could make the procedure more comfortable for myself.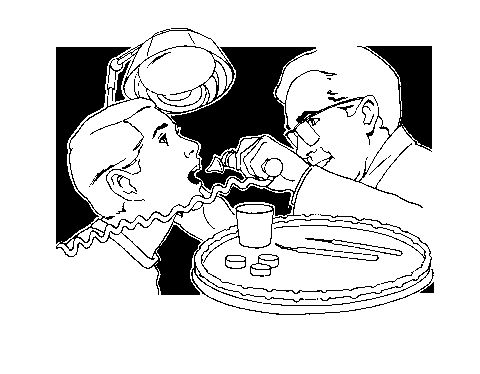 This image illustrates just how easy it can be to compress your neck in order to let the dentist look into your mouth and pulling your head back like this puts so much extra pressure on your
cervical vertebrae and discs
. It is really worth being mindful of how you lift your chin and open your mouth, so that you do this
freely
, with as much length along the curves in your spine as you can, thus reducing compression and distortion.  It will also be easier for you to have a relaxed jaw so that it opens wider, if your neck is relaxed.
Another great thing about using the Alexander Technique whilst at the dentist's, is that it gives you something positive to think about, rather than just focussing on all the sounds and sensations – and you can feel less powerless as the dentist drills and polishes your teeth.
How useful the Alexander Technique can be!