It was with great sadness that I learned of Kevin Saunders' recent death. Kevin came to me on and off for many years for Alexander lessons and during that time he trained firstly as a yoga teacher then, I'm happy to say, as an Alexander Technique teacher. Kevin went on to develop an approach to yoga teaching that utilised his Alexander training and he wrote an excellent Blog on the topic.
This lovely photo of Kevin by Ron Cox shows him in 2003, about the time when he first came to me for AT lessons. Kevin thoughtfully explored new ways to incorporate the AT into his daily life, whilst playing the guitar, working in IT, improving his eyesight and fine- tuning his yoga.
The only photo I took of Kevin was during a lesson when challenging his sense of balance whilst on a wobble board, performing a deep version of the position of mechanical advantage (2012). Not something every pupil is asked to do, or could even think of performing!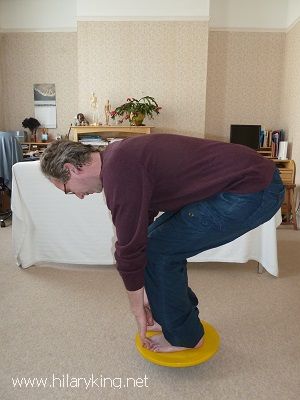 Kevin always came to lessons with an intellectual curiosity and gentle thoughtfulness about the human condition, discussing theories and exploring different ways of using the AT. Teaching Kevin was always stimulating for me and I also learned a lot from him over the years, for instance about different approaches to the AT. He will be missed by many.