After the Work – Enjoy your Garden
Now this is dedication to using the Alexander Technique Lying Down Procedure! 
This AT pupil kindly sent me a photo (Aug 2012) which was taken whilst he lay in semi-supine up his garden. 
He specifically built 
the little jetty
 over his pond, so that he can use it as a quiet place to practise the Lying Down or Constructive
 Rest Procedure outdoors.  
Whilst he is lying there he can see the fish and other wildlife living in the pond and garden – and he can also look up into a big tree above him, with sky and clouds as a backdrop. He has a beautiful view which is continuously moving, which helps him not to fix his eyes on just one point as he lies there. This will also help him to remain alert yet quietly 'working on himself'.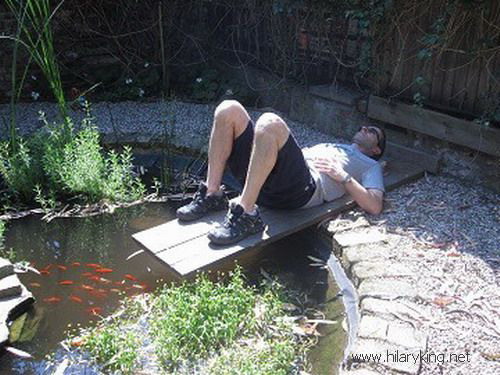 © Nicholas Franchini           Photo: Leonardo Franchini
Now I wonder if I can create a special outdoor space for myself, where I can practise the lying down procedure with even more pleasure….