Two More of My Ex-Pupils Graduate as Alexander Technique Teachers 
It has been thirty years since I qualified as an Alexander teacher and I am pleased to say that two more of my pupils have just graduated and I would like to congratulate them both! This makes 
at least six of my pupils that have qualified and a seventh is nearing the end of his training. Putting these seemingly small numbers into perspective, AT training courses are small, with a high teacher-student ratio. There are 6
STAT
recognised 3 year teacher training courses in London, each with up to 20 students. Of these, approx 1-4 may qualify each term.
Jessamy Harvey's Graduation Party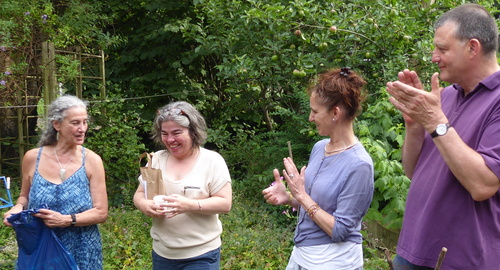 Photo shows Refia Sacks, Jessamy Harvey, Judith Kleinman and Roger Kidd
Dr Jessamy Harvey
 is a London-based University Lecturer whose research has been focused on Modern and Contemporary Spain. Jessamy originally had a few Alexander lessons with another teacher about 25 years ago, then came back to the AT and had 
Alexander lessons
with me for about a year, at which point she decided to change careers. Jessamy developed her skills as a jewellery maker and immediately began training as an Alexander Technique teacher at
LCATT
, so I was able to continue teaching her there during her three years training and she has assisted me on one of my intro Alexander Workshops.
I was pleased to attend her graduation party at LCATT and it is so rewarding for me to be able to contribute to someone's development, particularly when I can also see them growing into their new role as an Alexander teacher.
Karin Heisecke 
Karin Heisecke came to me for Alexander lessons some twenty years ago for about a year, whilst taking her first degree in the UK. Then Karin moved abroad and worked in several EU countries, gaining an MSc and eventually going back to her native Germany, having by then become an internationally respected consultant on political issues to do with gender-based violence.
Then last year Karin contacted me to tell me that she had stayed in touch with the Alexander Technique over the years and indeed felt it had supported her so well that she was training as an Alexander teacher whilst continuing to work as a consultant – as I write this, she is on an assignment in Kiev. I am happy to say that Karin qualified as an Alexander teacher this June.
A Skill For Life
Interestingly, Karin is another pupil of mine that has decided to train as an Alexander teacher many years after having her initial experience of AT lessons – Karin started her teacher training fifteen years after her first AT lesson with me. She took five years over her training as she had some time off from the course, in order to take on a full time job, before returning to complete her course and qualifying as an Alexander teacher. That is dedication.
Another pupil also started her teacher training at LCATT, a full twenty years after her first AT lesson with me. So these pupils have gone on to train as Alexander Technique teachers because they have really taken the AT on board and it has become central to their being. They have appreciated the Alexander Technique as a skill they can use to help them over many years and in many aspects of their lives – so much so that they want to share this amazing work with others. Many AT teachers also work in other fields and find that the Alexander Technique supports them in their work and enhances their experience.
I wonder if I may hear that other pupils of mine have also found the Technique so invaluable to them over the years, that they eventually decide to train as a teacher. I would enjoy that!