Kids Ask Parents to Turn Off Their Phones!
The BBC reports a survey of secondary school children that shows the social impact of mobile phones, with many families having a home life that is being harmed by their overuse. Parents frequently use their phones during mealtimes, for instance, so that children have asked them to turn their phones off. Not surprisingly, the research also stated that many children were frequently sleep deprived because of using their phones late into the night. Some teens even managed to be on their phones for 20 hours a day during weekends and holidays! Add into the mix the epidemic in both adults and children having painful 'text neck' and RSI problems, it is easy to see how damaging phone use can be.
This five year old is poised and alert as she has breakfast and, hopefully, she will be able to maintain this easy
body-use
as she gets older. She does not use any phones, tablets or other screens and her parents aim not to use their phones in front of her. No doubt she will begin to use some technology at school soon but as yet she is being encouraged to find entertainment elsewhere so that she can develop her creativity, reading and active play in many other ways. This little girl does not know about the AT but her mother does some yoga, which she sometimes copies and this helps her to be more aware of her body-use.
It's Not Good to Frequently Feel Ignored 
The above photo is in stark contrast to the one used in the BBC article, with father and daughter both slumped on a sofa, both heading towards having neck problems from the ways they are using their bodies. The father's head is dragging forwards and down over his phone – a typical iPosture, with a text neck scenario developing in him as he ignores his daughter. She is twisting her neck and her whole body expresses how fed up she feels, in true
psychophysical
unity, as she stares out in front of her.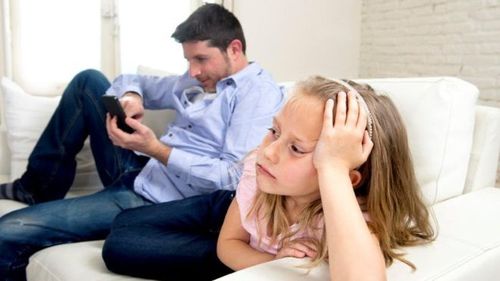 Whilst mobiles are very useful bits of equipment, it is worrying that they seem to become so addictive and dominate people's lives. I find it sad to see so many young Mums (and some Dads) pushing a toddler in a buggy but with no interaction between them because Mum ignores the child  – the mobile phone gets all the attention. What sort of habits of relating to other people and of phone-use will those children develop? Copying parents is a big part of the way we learn as they are important role models for us, so the pattern is likely to be copied and repeated as the child grows older. Many tiny children already use screens for hours on end, which is leading to some developing problems when really young. In a previous blog 
'Evidence of Text Neck in Seven-year old Children'
 I discussed this alarming situation which has been created through the over-use and mis-use of mobiles and tablets.
There Can Be Another Way
Fortunately,
Alexander lessons
can help people unlearn
habits
that have been causing problems and, ideally, help them to learn how to avoid developing habit patterns of
mis-use
to start with. This was very important to F M Alexander, who ran a school for children which incorporated his theories and teaching into the daily life of the school. One school,
Educare Small School
 is run along the same lines and the AT underpins every activity there.
Today, both adults and children are able to access individual lessons in many parts of the world and a group called
Alexander in Education
is promoting the Technique in UK schools and colleges. The educational institutions that include the Alexander Technique in their curriculum range from specialist music schools and colleges, to a children's nursery.
All of that is great and quite exciting but it's important for parents to realise just what sort of body-use and way of life they are modelling for their children and the impact it can have on their future lives, even before they are old enough to go to school. I'm sure many parents believe they are doing just that already but perhaps they can refine their awareness to include the little things in life too, such as how they use a mobile or tablet, how long they use it, how much they exclude others when using a screen and how they look after their own body-use as they text, chat and game away on their phones. Children are watching – and waiting for you.
There's an interesting podcast from Body Learning you might like to listen to: