Sinead O'Connor 8 December 1966 – 26 July 2023
Sinead O'Connor was an incredible musician, protest singer and activist who came to me for some Alexander Technique lessons at the beginning of her career. I was saddened to hear of her death at the age of just 57. It had been a privilege to teach her, albeit for only a few weeks.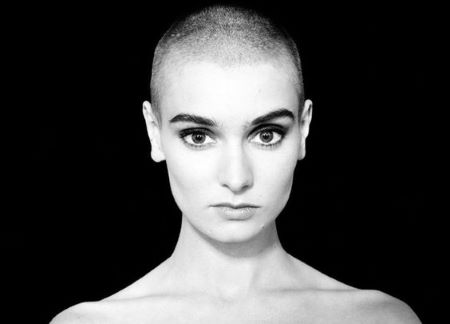 Sinead O'Connor Photo: Guardian Newspaper
This photo shows Sinead much as she was when she came to me for Alexander lessons around 1989, not long after I qualified as an AT teacher and lived in Stoke Newington. Sinead's records were produced by Chrysalis / Ensign records, that were based in the famous Wessex Sound Studios in nearby Highbury New Park. (The studios were at the back of St Augustine's Church, where Malcom King and I had married.)
Sinead was in her early twenties at the time and elfin-like in appearance, with her shaved head – but what a powerful singer!. Her hair was quite a shock for me to touch at first, as I guided her movements in her AT lesson. It was very unusual to see a woman with a shaved head in those days and It was interesting to see the shape of her skull and neck so clearly
Sinead O'Connor record card
Sinead signed this record card when she was referred to me for Alexander lessons by Chrysalis Records. I have kept the record card all these years as it was special for me to have taught her. However, I am amazed as to how few details I asked people to give me back then but it does mean that I can share this, as it doesn't give any personal details about her.  I am more thorough these days and my record cards are far more informative!
Nothing Compares
I only taught Sinead for a few weeks, as she moved away to Ireland – or possibly the US to collect an award? Her song 'Nothing Compares 2 U' was a favourite in our household and shot her to international fame and it was the world wide no 1 in 1990.
A very moving documentary about Sinead, called 'Nothing Compares' is available on YouTube and has been shown on Sky Arts.  It was fascinating to see Sinead as she was when she came to me for lessons and showing me a far more formidable side to her than I realised at the time
I would have loved to have taught her for longer and I have no idea if she continued with Alexander lessons with other teachers. If anyone reading this also gave her some lessons, do please contact me as I would love to know about it.  I hope that the work we did together gave her some skills that she found useful during her international singing career and rather turbulent life.
R.I.P Sinead.