First Aid as CPD
Over the 30 years I have been teaching, I have attended several short First Aid courses and recently took part in a full day Emergency First Aid at Work Course with Siren Training, which was organised by The Old Church where I act as a volunteer (thank you very much!). Fortunately I have never yet been in a situation where I have needed to use First Aid.  Usefully, First Aid can also be seen as part of my Continuing Professional Development as an Alexander Teacher. Not all Alexander teachers have done First Aid and I would like to encourage them to do so, as I came away feeling reassured and confident that I know more about what to do in an emergency and can better care for any vulnerable AT pupils. 
So Why Might I Need First Aid?
Some students that come for Alexander lessons are at risk of having diabetic or epileptic seizures, some may be prone to fainting, whilst elderly pupils may be more vulnerable to having heart attacks for instance – and accidents can happen any time. Knowing what to do under such circumstances will help both me and my pupils, should needs arrise. Of course everything I've learned on the First Aid course can be transferred to helping anyone who needs such care, so it will also be valuable when I'm involved with local community activities. With our health service increasingly under pressure, I do feel reassured that I am more likely to be able to help someone until one of our brilliant NHS Paramedics arrive.
The range of topics covered during the First Aid at Work course can be seen on the certificate below and cover most of the situations that I could come across in my work. These courses have a big experiential and hands-on content, so I came out with some very practical skills but I did also have to take a very short written test, in oder to get the qualification – that was a surprise and it was the first I've done for many years!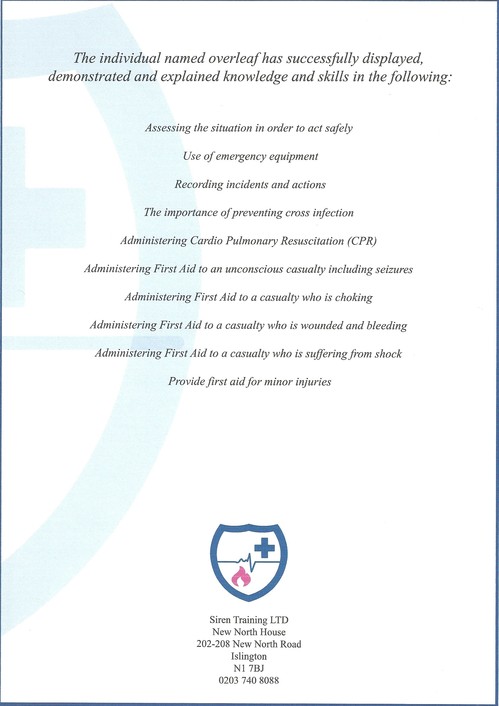 First Aid for All?
It would be great to have every Alexander Teacher doing some training in First Aid. These courses offer knowledge and skills I believe we should all have – but I hope we never need to use them!
In fact I would like to see First Aid taught throughout the country in schools and colleges so that everyone, eventually, gains at least basic First Aid skills.