Adapting to the Challenges of Covid-19.
I've been teaching face to face Alexander Technique classes for 33 years and I'm now including online work.  Adapting to the new Covid-19 way of life, I'm on a course that aims to improve my online teaching.  Primal Alexander, the brainchild of Mio Morales, makes the AT more accessible online, where we cannot use traditional hands-on procedures.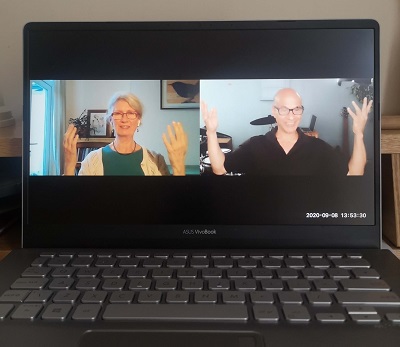 Hilary King experimenting with movements on Mio Morales' Course
The 12 week CPD course also extended my range of teaching procedures which I use in face to face lessons. Another benefit is that I connected with international AT teachers during this time of limited contact with others, which is great.
An Expanded Alexander Technique Vocabulary
Mio has developed a new vocabulary for online work, to explain the concepts of the Alexander Technique. For instance Mio talks of allowing 'Ease' in ourselves, as an alternative to the traditional wording of allowing movements to be 'Free'.  This extended vocabulary expands our ability to communicate the Alexander Technique to students, particularly online.
Mio's also created a series of 'etudes' in which movement patterns can be explored whilst thinking about how we perform them.  I look forward to creating some etudes for pupils – and for myself, with which to explore my own body Use.