Apply the Alexander Technique Whilst Gardening
Gardens keep on growing and there are lots of plants needing to be tidied up, cut back and pruned. And the grass needs mowing too….
Gardening involves using our bodies in ways that many of us just don't do in our daily lives. People often spend days sat at a desk, then do a sudden heavy bout of gardening, which can involve movements such as:
Stretch, reach, twist, bend, kneel, climb, balance, cut, saw, chop, dig, push, pull, carry, and finally sweep…
Quite a work-out – and it can be easy to strain muscles or hurt your back doing all this work. So when you are involved in activities such as gardening, be aware and remember what you have learnt in Alexander lessons. Don't rush into things but pause, take a moment to think about how you are going to use your body when doing the next job. Give yourself directions, remind yourself not to tighten everything up ( tension is not the same thing as strength). Avoid pulling your head back but to allow your spine to lengthen into all your movements, so that you protect your neck and back.
When you need to bend, be aware of your movements and hinge forwards freely from your hip joints, adapting the 
monkey position
 as the woman in this (un-posed) photo is doing (although ideally the movement is made without a hand on the knee) and you will be more likely to avoid the back pain that so often happens after spending hours bending, mowing and digging.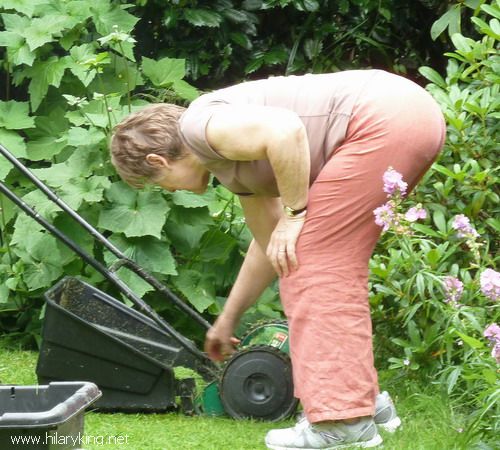 Equally, take care when you have to reach and to look up, in order to prune trees and bushes. Allow your neck to freely maintain as much length as you can, regularly undoing any contracted muscles whilst working. It's great to use the
active rest procedure
 afterwards, to allow your body to let go of any tensions that have built up whilst working.
Look after yourself and you will enjoy your gardening – and your garden – even more!