High Heels? How can people feel comfortable in them?
An Alexander Technique teacher trainee at LCATT sent me this X Ray photo of someone's foot inside a stiletto shoe, which he had found on the AT Global page on Facebook. I find this photo very uncomfortable to look at, realising just how much damage is being done not only to this woman's (?) foot but also her back.
When I was a ballet dancer and was regularly doing pointe work, my feet would have undergone similar distress, although the toes would have been lengthened out and we were taught how to use pointe shoes and how to look after our posture – and we didn't walk around on our toes for long periods of time! Even as a young dancer, I would never wear stilettos.
Thankfully, when I stopped dancing I began learning the Alexander Technique which, amongst other things, helped my feet to free up and my potential bunions began to right themselves enough not to be a painful problem.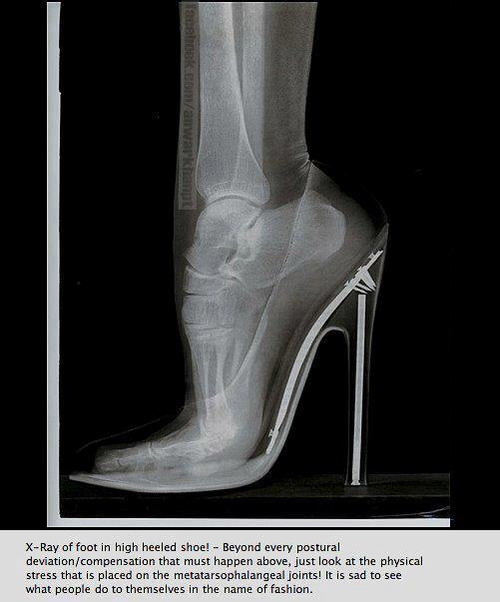 Feet that are squeezed into pointed high heels as above, day after day, do tend to get damaged and the whole body gets thrown out of kilter, causing many problems. A good number of women have lost their balance and fallen off their high heels, spraining and even breaking their ankles. The Achilles tendon can shorten so the foot cannot rest on the ground fully, the woman's posture can become distorted so that an over-arched spine or lordosis can develop, creating backache, plus toes can become quite mal-formed and painful….. and more
Is all the damage to our bodies really worth it, just for fashion?
For a further discussion on this topic, you can read my article Back Pain and High Heels.