Stress? Take it Lying Down 
We recently ran a very successful event for Alexander Technique Week 2018, the theme of which was 'Stress? Take it Lying Down'. I am very grateful to The Old Church N16 as they kindly allowed me to use the premises for free, as we were fundraising for the local charity Safaplace. I also want to thank my colleague Jessamy Harvey, for all her help in setting up and running the event.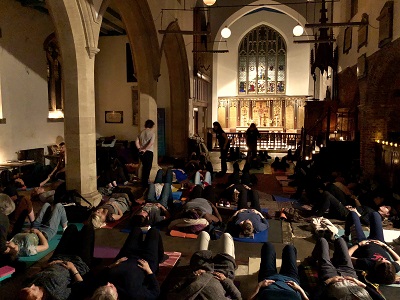 Over forty people enjoyed lying down in Semisupine!                 Photo: Nell Greenhill
The Church looked beautiful and very atmospheric with all the candles and low lighting! We were fortunate to have two speakers from Safaplace, Sarah Finke and Rose White who gave moving accounts about the formation of the charity and why it was set up in order to promote the positive mental health of schoolchildren.
I then described how the Alexander Technique can help us cope with stress as well as helping us be more poised and how the AT explores the mind-body relationship, helping us to unlearn habits we've developed that can interfere with the way our bodies need to work.
Caroline Sears
followed with a talk about
Alexander in Education
and how the AT has been introduced into over 80 schools and colleges in the UK and in many institutions around the world, helping students handle exam and performance stresses, for instance.
Then it was lie-down time and The Old Church was full of quiet bodies as
Natasha Broke
talked people through the Active Rest procedure. Along with the teachers already mentioned, Daniela Sangiorgio and 
Thodoris Ziarkas joined us to give people a brief hands-on experience whilst lying down
. All the teachers assisting on this event are registered with
STAT
 and are alumni of
LCATT
, an AT teacher training course where I am a visiting teacher.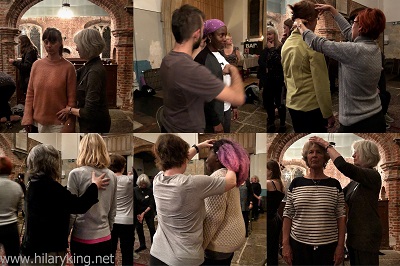 Six AT teachers gave mini taster sessions                                    Photos: Nell Greenhill
Finally, we gave some mini taster hands-on turns to those that wished to explore the AT a little more and the bar was open for people to enjoy.
Many thanks to Janet Foster who looked after the door, the friends who ran the bar and helped out and Nell Greenhill for taking the photos – all of whom, like the AT teachers, offered their time and services for free.
Donations to Safaplace
I am pleased to say that we raised over £423 for Safaplace – thanks to the generosity of all the participants!
If you would like to read more about Safaplace and / or would like to donate to them, you can do so here: 
https://safaplace.org/