Hilary is a certified member of STAT, the Society of Teachers of the Alexander Technique, the world's oldest and largest professional body of Alexander Technique teachers. She is also registered with CNHC, the Complementary and Natural Healthcare Council.
Alexander Technique Lessons in Harringay, London N4
My teaching studio is Covid Secure.  Online Lessons are also available on Zoom.
Inclusivity Statement 
I am committed to equality, diversity and inclusivity and aim to avoid bias and prejudices.
My teaching room is on the ground floor with one step to access the building, so is suitable for many ambulant disabled people. However, the toilet is up a flight of stairs.
"You are not here to do exercises or to learn to do something right, but to get able to meet a stimulus that always puts you wrong and to learn to deal with it."
F.M. Alexander
Aphorisms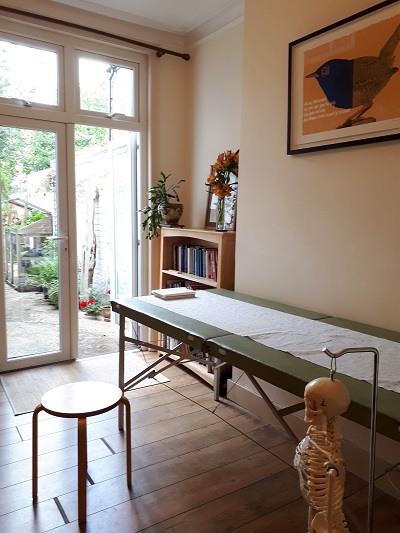 My Teaching Studio in Harringay N4 has good ventilation
About Alexander Technique Lessons
Traditional Alexander lessons are a process of discovery and an exploration of how our minds and bodies interact. The teacher's hands and verbal instructions gently guide the pupil's movements, so that unhelpful reactions and habits may be recognised and gradually stopped. In so doing, we become freed to choose new responses to situations. We also learn to give ourselves a set of instructions or 'directions' so that we move with more self awareness and poise, often reducing pain and discomfort in the process.
Gradually you learn how to apply these changes in everyday situations and to increasingly more complex activities.  In so doing, you can reduce aches and pains, gain some inner calm and stress relief,  developing self-help skills you can use throughout your life.
With the onset of Covid-19 masks have been and still are worn so, ironically, face – to face lessons are more mask to mask!  Weather permitting, part of each lesson is held outdoors in my secluded garden, where we can often dispense with masks. Thankfully some of the restrictions have been eased now but I am still mindful of Covid and sanitise everything regularly. The window and French doors are usually open to allow good air circulation.
"It is not getting in and out of chairs even under the best of conditions that is of any value: that is simply physical culture. It is what you have been doing in preparation that counts when it comes to making movements."
F.M. Alexander
,
Aphorisms
As we progress in our understanding and application of the Alexander Technique, we can explore more complicated activities such as carrying babies, using computers or playing musical instruments, gradually applying this learning to all aspects of our lives – even scrubbing our teeth! Many people improve their posture, co-ordination and performance as a result; they tend to feel happier in their bodies and research has shown that they can also increase their sense of well being.
Wear comfortable, loose clothing, as you will move around and lie down for part of the session. Please avoid hoods as these get in the way and, if you are having online lessons, please wear clothing that lets me see your body movements clearly. You will be asked to take your shoes off.
Reduced Rate Lessons for NHS staff and BAPAM referrals
I offer NHS staff 10% off lesson fees.  Just contact me using an NHS email address. Performers who are referred by BAPAM are also eligible for a 10% discount.
Occasional Alexander Technique workshops and short courses on the Technique will soon be available again. However, because our patterns of 'misuse' are so personal to each of us, the main learning of the Alexander Technique is, ideally, through individual lessons.
I have provided a list of insurance companies that have been known to reimburse people for at least some of their Alexander Technique lessons in the UK. Many self-employed people can claim AT lessons as a valid expense for Tax purposes.
Frequency of Lessons
I teach the Alexander Technique in Harringay N4.  Introductory lessons are 1 hour; subsequent lessons are usually 45 minutes long, or 30 minutes for children. It is advisable to start with one or, even better, two lessons a week. Later, you can drop down to fortnightly then less regular lessons as you progress. A foundation course of about twenty lessons is recommended by STAT, so that we can gain an understanding of how to use the AT in our daily lives. However, research has shown that it is possible to gain something useful out of just 6 lessons. Most people enjoy their lessons!
Please contact me to find out my full address and my current fees structure.
Transport
There are a variety of transport links to the Harringay area:
Tube: Manor House
Buses: 29, 141; 341; W5
Overground: Harringay Green Lanes
Train: Harringay Station
Car:  Restricted street parking. Free Parking in Harringay Arena
Cancellation Policy
If you are ill, please do not come to a lesson and you will not be charged a cancellation fee.  If you need to cancel for other reasons, please give me at least 24 hours notice, or you will be charged for the cancelled lesson..
Information and a register of qualified Alexander Teachers, who have undergone a recognised three-year training, may be obtained from STAT (the Society of Teachers of the Alexander Technique).
Enquire About a Lesson
Click the link below to enquire about my one-to-one Alexander Technique lessons: