Covid-19 Security
The Covid pandemic has brought us new ways of working and we have all had to adapt. A lot of preparation and upkeep goes in to making my premises and my lessons Covid Secure. It is worth outlining the procedures in place. Initial consultations are now held on Zoom, in order to reduce physical contact time. When pupils do come here, we sanitise our hands and they also spray their shoes. I take their temperature with a contactless thermometer. Clients also check in with my QR Code, (unless they're unable to download the NHS App, which has happened more than once!)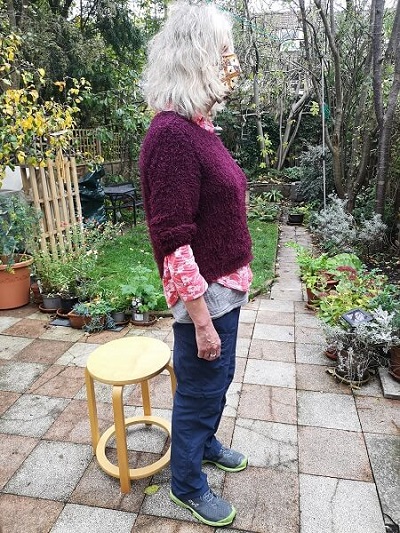 Outdoor Alexander lessons up my garden
Weather permitting, we have the first part of the lesson up my secluded garden. It is very easy to be socially distanced for a lot of the time outdoors but we do need to wrap up warm! Soon I will have an outdoor heater available, which will make things more comfortable.  One bonus is that we're often entertained by birds, squirrels and even foxes as we work, which is great.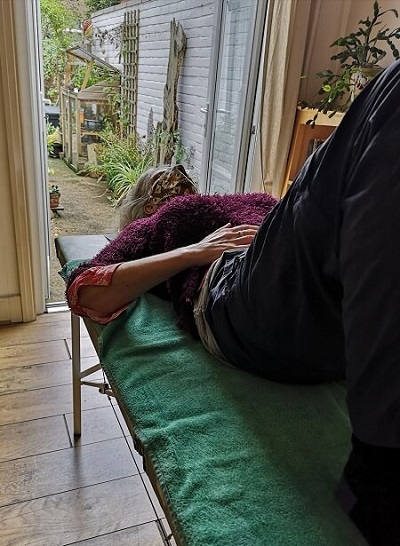 Semi supine Lying Down Procedure – with Covid mask and the doors open
We usually end lessons with clients practising the lying down procedure indoors. Windows and doors are kept open whenever possible, to ensure a good airflow.  I've installed a porch over the doors, which gives us some added protection.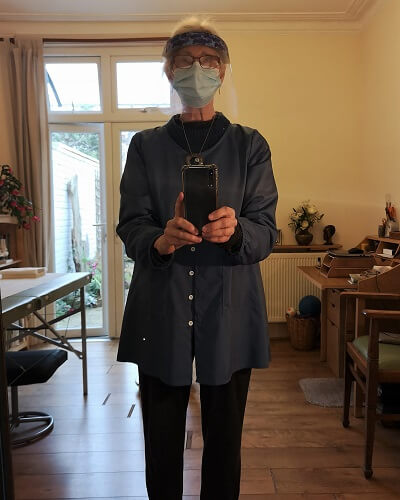 Masks, Visors and lots of Sanitiser
The AT table and all surfaces are wiped down with sanitiser before and after every lesson. In the picture above, Rosanne brought her own towel but the rules have changed and this is no longer advised. Now, just the disposable paper covers are used on the table and books. We both wear masks and for closer table work, I also wear a visor. This tends to make my glasses steam up! In a way this is good, because this challenges my habit of wearing glasses all the time, even when I don't really need to. I now remove my glasses when using a visor.
Wipe, Wipe and Wipe again!
After the lesson, I bin the paper covers and sanitise the table and books. I then wipe the door handles, coat stand, front door bell and the gate. Then I wash my hands, again. So you can see why I have spaced out my lessons wider apart than they used to be, in order to allow time for everything to be clean and dry before the next pupil arrives.
Online Lessons 
At the times when face to face lessons are not permitted by the Government, pupils continue lessons online via Zoom. Of course online are also available for clients who live at a distance.